Unitarian Universalist Church of Annapolis
Welcome to the Unitarian Universalist Church of Annapolis!  We are a vibrant congregation of approximately 400 adults, children and youth.  We gather together for spiritual growth, for creating deep bonds of community and for putting our values into action.  The Unitarian Universalist Church of Annapolis (UUCA) is a self-governing church within the association of congregations in the Unitarian Universalist Association (UUA).
Our Vision Statement is:
At UUCA we value and aspire to:
Courageously seek authentic relationships across differences
Move ourselves, our church, and our Earth toward justice, wholeness, connection and love
Engage in a lifelong journey of learning and spiritual growth
Practice radical hospitality, acceptance and inclusivity
Provide a haven for all beliefs and identities aligned with UU principles.
Unitarian Universalism has seven principles which bind us together as we strive to live in right relationship with each other in our communities and in the world. We affirm and promote:
The inherent worth and dignity of every person;
Justice, equity and compassion in human relations;
Acceptance of one another and encouragement to spiritual growth in our congregations;
A free and responsible search for truth and meaning;
The right of conscience and the use of the democratic process within our congregations and in society at large;
The goal of world community with peace, liberty, and justice for all;
Respect for the interdependent web of all existence of which we are a part.
The 8th Principle (voted on by the Congregation, April 2018)
We put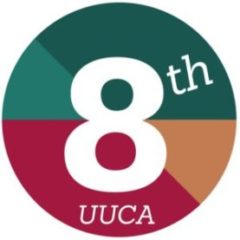 our values into practice by upholding the 8th Principle in all we do, which calls us to:  "…journeying toward spiritual wholeness by working to build a diverse multicultural Beloved Community by our actions that accountably dismantle racism and other oppressions in ourselves and our institutions."    Building Beloved Community (BBC) provides year round anti-racism, anti-oppression and multicultural training during Middle Hour (10:10-11:10 am) and on evenings and weekends.  Check the church newsletter, Highlights for an updated schedule of programs.
A Sanctuary Congregation (voted on by the congregation, April 2017)
In April 2017, the Congregation vote to become a Sanctuary Congregation.  That means that we declared our support for undocumented individuals in danger of deportation and are willing to provide material, emotional and physical support.   For more information about what it means to be a Sanctuary Congregation click here.
333 Dubois Road, Annapolis, MD 21401

From the Minister's Blog

By Rev. John T. Crestwell, Jr. A few years ago your ministerial team i