Embodiment (FM)
Wednesday, May 3, 2017
"Be the change that you wish to see in the world." ― Mahatma Gandhi
All religious faith's hold a vision of life as it could be, as it ought to be.  In some cases – maybe even in most of them – there are creeds, dogmas and rituals that support the vision; there may even be prescribed behaviors that help a follower live the vision or at least stay on the road that might lead to the goal.  I assume that any person who chooses to associate with or claim as theirs a religious faith, that they must agree to not only the vision, but many of the expectations/rules that their faith demands.  I heard someone explain that many followers of a faith can have a crisis of faith – "existential anxiety" is the way she phrased it – when they realize deep down that the distance between how they live (where they are now) and the vision (where they want to be) is not closing but may be growing wider.  I can imagine that for many of you, your journey to Unitarian Universalism or your decision to remain UU, could have been described with stories about this crisis or anxiety.
Gandhi's prescription to this state of one's faith is straight forward and bold: "Be the change that you wish to see in the world."  In short – live your vision, be your hope, walk your talk.  Frankly, it sounds so simple, elementary, basic.  But, we all know it's so challenging.
Our May theme is "embodiment."  What any faith asks, is: How do you embody your religious faith?  For us, how do we/you embody your Unitarian Universalism? Our seven "Principles" aren't a creed, but they are Unitarian Universalism's vision of the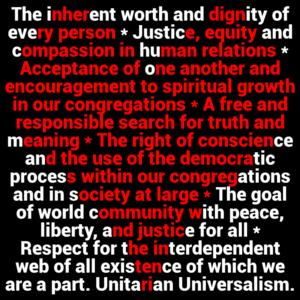 Beloved Community.  It's what we strive for, it's what we seek to embody; that vision is the "change we wish to see in the world."  And, how frustrating it can be, how disappointing, how maddening when we fall short – often way short – of getting where we want to go, which is why we – at least it's why I – come together in community. Alone I may never be that change, but together – as a congregation – we can share the journey, do ministry together, we can walk with each other while keeping our "eyes on the prize."  So, hold on!  Hold on to the vision, hold on to each other; hold on, embody your faith and keep moving, keep living!