Courage [FM]
Tuesday, October 17, 2017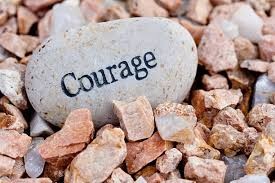 I read and hear a lot about courage now days, such as this quote: When will people of courage stand up for what is right? Quotes of this sort are often about politics. A recent op-ed piece by four clergy spoke to this kind of courage too – they write about an issue that we as a church have addressed. I urge you to read it [here].
More recently, the displays of courage coming from Texas, Florida, the Caribbean nations and islands are quite stirring. Rescues of people and animals; acts of kindness and bravery; giving of donations and support to flood victims and first-responders – these reports have all been so moving. (And, if you want to give through Unitarian Universalist programs, here are ways to do that.)
This month here at UUCA, our theme is courage and the above examples give a place to start thinking about it. Of course, courage comes in all shapes, sizes and contexts. So let me add to your reflecting about this. I think of courage like this, as acting outside my comfort zone in order to usher in the Beloved Community (that time when we finally realize the "inherent worth and dignity of all [with] justice, equity and compassion"). Of course the kinds of courage seen in the first two paragraphs are the kinds that make the headlines (on TV, in the papers and social media). Then there are the small, everyday acts of courage that usually go unnoticed and unnamed. I would include in this list attending church.
That's right, going to church can be an act of courage. For some, it's an act of courage because it might go against what has become an expected practice, that is to stay home or go out but not to church – the number of people who go to church is decreasing, especially among those 40 years and younger. Telling someone that you go to church inevitably leads to more questions that might make you feel uncomfortable. Combined with this – and I've found this is especially true among Unitarian Universalists – coming to church can be a last-try-event, which is to say that communities of faith were a part of your past, but you come here to give it one more try.
Going to a Unitarian Universalist church – that is, coming to UUCA – is an act of courage not only because of what I've named above, but because just setting foot inside our doors is likely to be leaving the familiar, the expected, the what-you-thought-it-was-going-to-be (which might be good!). But, there's more, in fact so much more.
Coming to UUCA is a sign of hope, hope that there can be a path to sustained meaning. And it takes courage to want this, to believe it and then become engaged in making hope a reality. Hope is a sign of courage, a badge of courage to wear. Here are some of the ways that this badge is acquired:
At UUCA, you are urged to hold up a mirror and ask: Is this me? Is this who I am, really? If "yes," then wonderful, great, celebrate! And if not, what is standing in the way of becoming your truer, authentic self.
Here's another way to think about this: My experience has been that everyone who comes through our doors wants to be moved, to change – that could happen with music, with words, or more likely with relationships. If this wasn't the case, then you would just stay home. Coming to church acknowledges this hope and this takes courage.
At UUCA, you will be nudged to step away from the daily routine that has been you – who others believe you to be – and set out on what feels like the risky business of becoming who you want to be. Engaging in the unknown always takes courage, but here is a community you can walk with.
Finally, in our faith community you will be asked to participate in shaping the Beloved Community. The larger community of worth and dignity, justice and compassion – this is what we seek, what we want, this is what we show up to support. And this, of course, does not – and shouldn't – have to be done alone. "It's better together!" Every month, UUCA offers ways to address and engage the coming Beloved Community. It takes courage to show up, but you don't have to be alone.
Yes, we read a lot about courage. And, at UUCA we are a community that embraces courage and hope.  Keep this mind as you go about your weekly routines.
See you church!
Fred