Why I am A UU – Abundance (JC)
Thursday, October 19, 2017
The day I was born-again, in the UU sense of the word, was in 1999 – a day I'll never forget. I was searching for something I wasn't sure I'd find, but when I did, I knew I was free. The summary I read about Unitarian Universalism – in the book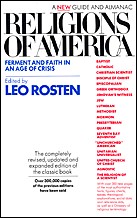 Religions of America by Leo Rosten – was "salvific"; like manna from heaven.
One particular passage said that we (UUs) value freedom because a free society "gives the maximum opportunity for all persons to find and enjoy the good life." This resonated! For me, the good life means I have space to grow, do and be; safe, courageous, and challenging space to expand my ideas through sacred conversations, make life-long friendships with similar souls, and grow my spiritual self. Over the years, I have come to see that the idea of freedom is what keeps me UU. I have changed my religious views over the years; moving from fundamentalist Christian to Atheist, Agnostic, and now, today, what I'm calling a "Metaphysical Mystic". I am thankful to have a religious tradition that allows this transition.
Freedom to change and expand relates to this month's theme -abundance. Abundance is having "a very large quantity of something" (Google). We have a large amount of freedom as Americans and as Unitarian Universalists. This requires us to have a great deal of responsibility in our thoughts, words and deeds. We have chosen a difficult path, one that asks us to try to be the best version of ourselves.  Abundance without responsibility can become greed which pushes us further from our ideal of interdependence—our seventh principle.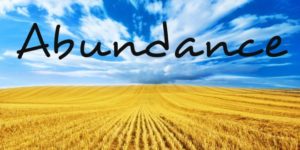 Being a religious liberal gives us a great deal of expanse to create and broaden our approach to life. JFK said a liberal (in the purest sense of the word—not political) is "someone who looks ahead and not behind; who welcomes new ideas without rigid reactions…" We are a liberal tradition – a flexible/bending/free faith that changes and adapts with the times. It's the process that attracts us, not the safety of knowing the answers. We live to question and seek and experiment with what we have. Ours is a work in process. It takes an open mind–abundant thinking; and not one of scarcity on this path.
As we face transitions here and elsewhere, let us remember, in this month of giving thanks, that we are blessed to have this chosen faith.  May we continue to live abundantly with our time, talent and treasure as we face uncertainty with courage, and change with love.
See you around!
Love – Rev. John